CF Hyland Racing is active at the major sales.
Should you wish to discuss potential purchases, please don't hesitate to contact Chris on 0419 336 140.
Alternatively, any horses we have available will be listed below.
4 Year Old Bay Gelding
Owners: Paul Clarke, Jacob Fry, Darren Fry, Chris Hyland, Michael Johnson, Nick Madden, Greg Maidment, Chris Morgan, Michael Poes, Allison Purdey, Richard Ralph, Fiona Ralph, Matt Salisbury, John Smith, Paul Stocks, Geraldine Tregonning, Russell Tregonning, Geoff Tucker
Today we purchased ELECTRIC a lovely son of Kermadec out of Boredom (a winner over 1900-2200 ), he is is lightly raced and is bred to run a trip but has been relatively untried over any real distance so far!
This is the style of tried horse we have had a bit of luck with over the last few years, and I think Electric will be no different.
Electric is a 4 year old gelding sired by multiple Group 1 winner Kermadec( NZ) out of an Ad Valorem (USA) mare Boredom, who has produced 4 named foals, 3 winners.
Well educated and lightly raced he has had 1 win and a 3rd placing from 7 starts.
Electric
If your interested in coming along for the ride in a horse that is still early in his current prep and will continue racing straight away, then give Chris Hyland a call on 0419336150
1 Year Old Bay Colt
Owners: John Grant, Scott Hanger, Corey Hanger, Chris Hyland, Michael Johnson, Doug Love, Gary McDonald, Stephan McNamara, Joe Mercaldi, Ann Mercaldi, Michael Perrett, John Perrett, Michael Poes, John Price, Richard Ralph, Russell Tregonning, Geraldine Tregonning, Salli-Marie Wilkins
Trainer: Chris Hyland
Silks: Yellow, Black Epaulettes, Striped Cap
Price: 4,800 plus GST for 10%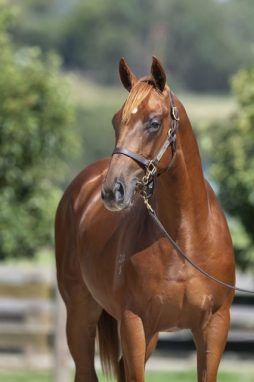 2 Year Old Chestnut Colt
Owners: Ken Batrouney, Duncan Black, James A Dudley, James E Dudley, Mark Edwards, Melvyn Ford, John Grant, C F Hyland Racing P/L, Karen Jennings, David Lazenby, Damian Lesque, Nick Madden, Greg Newbold, Michael Poes, Richard Ralph, Tim Scully, Peter Stanley
Trainer: Chris Hyland
Silks: Yellow, Black Epaulettes, Striped Cap
Price: $4,400 inc GST for 10%
Incentives:
This impressive colt is by the exceptional racehorse CHURCHILL (by Galileo) the winner of 7 consecutive races at 2 and 3yo's including 4 Gr.1's.
Churchill stands at Coolmore and was the Champion 2yo of his time and a dual Guineas winner.
Our newly acquired colt is from the multiple Metropolitan winning mare Rock Princess who won 8 races ranging from 1200m – 2000m and is a half sister to Macedon Lady winner of the Gr.1 1000 Guineas.
Chris was lucky enough to train Rock Princess to her 8 wins and is super excited to get the opportunity to now train one of her progeny.
C. F. Hyland Racing
#3 Drury St
Beaconsfield VIC 3807